Today here at MagentaScribe we are joined by Roxanne Piskel. She is a writer, freelance editor and mother. We put together some questions that she was nice enough to answer for us via email.
---
MagentaScribe: How long have you been editing? How did you get started?
Roxanne:I have been editing papers for my peers for many years. I started editing professionally in November of 2011. I had built quite a following for my personal blog via Twitter, and I started marketing that way. I was participating in NaNoWriMo '11, and I posted an advertisement on the forums there offering a discount to participants of NaNoWriMo. From there, I have relied on only word-of-mouth and Twitter for marketing
---
MagentaScribe: How does the process work? What do you do for the author? What do you expect from the author?
Roxanne: The first step in my editing process, is to read the work all the way through – without pausing to make note of any mistakes. This gives me a chance to get an understanding of the story as a whole (or the thesis of the paper), which I believe helps me make better suggestions on the work as a whole. I try to do the read-through in as few sittings as possible, typically only one or two depending on my schedule. Next, I go through the work line-by-line and make all my suggestions using Microsoft Word's "Track Changes" feature or Open Office's "Record". Throughout this process, I keep in contact with the writer. On some larger projects, the work is divided into sections. This helps me by breaking up the work, but also ensures the writer is not left waiting a long time for any feedback on the piece. If I have any questions along the way, I like to keep the dialogue open throughout the process. This includes after the project has been returned to the writer. My suggestions or changes may be confusing, or the writer might like to know a more detailed reasoning for a specific alteration. By keeping the dialogue open, there is less confusion.
---
MagentaScribe: Do you fix the problems or do you just point them out and offer suggestions?
Roxanne: I do both. Grammatical errors and typos I will often change right in the body of the manuscript. This is where Microsoft Word's "Track Changes" feature comes in handy. The writer is able to see quite easily all of the changes I made to the document. In addition, I make suggestions about ways to rephrase certain sentences or paragraphs, how to fix any continuity errors, or anything else I come across along the way.
---
MagentaScribe: During this process, how do you differentiate between errors and deliberate nuances in the writing?
Roxanne: The first thing I do when I receive a manuscript for editing, is read the entire thing straight through. I don't make any notes about typos or grammatical errors, I just read it as if it's a regular book. I believe this helps me get a feel for the writer's voice, as well as an understanding of the characters (if any). If there are ever any questions, I either email the writer to discuss, or I put it in a comment on my edited version.
---
MagentaScribe: What kind of things should an author have in mind when going through the editing process?
Roxanne: That it is one person's opinion. Except for grammar and spelling, any suggestions coming from me are merely that – suggestions. I am also open to discussion. If the author questions why I made such-and-such correction, I will be there to clarify. If you are trusting your work to me, then I want to make sure you are happy with the results.
---
MagentaScribe: I know that you write as well; do you think it helps you understand the author's perspective when it comes to the editing process?
Roxanne: As a writer, I do feel that it helps me get into the shoes of the author during the editing process. I know when I write – especially fiction – I get very attached to my characters. This makes me very sensitive when offering criticism to other writers. It makes it easier for me to find proper ways to approach honesty in my critique – to make it constructive rather than just empty criticism.
---
MagentaScribe: What do you do to take off your editor hat when you are writing?
Roxanne: It's very difficult! I find myself editing as I write all the time. It's a constant struggle to remind myself to not worry about perfection the first time around – to let the rough draft be rough.
---
MagentaScribe: How do you think beta readers and editors are different? Are there any ways that they are the same?
Roxanne: I've never personally used beta readers, but to my understanding the main difference between them and editors, is that an editor will be more focused on the technical aspect of the written work. Beta readers would pay more attention to the flow of the story, characters description, continuity, etc. Personally, I add those aspects into my professional editing. Beta readers and editors are a lot alike, however, because they both work to assist the writer make her work the very best that it can be.
---
I would like to thank Roxanne for taking time to answer our questions. I hope we will get a chance to work with her again. You can find more information on her editing services at: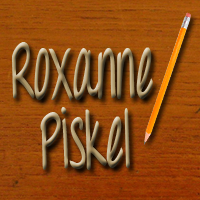 Roxanne is a single mother to a 5-year-old superhero, living in the biggest little city and blogging all about her journey at Unintentionally Brilliant. She works as a freelance editor, Tupperware consultant, and administrative assistant. She is also an editor and contributing writer at World Moms Blog. When not working like a crazy woman, she enjoy walking on curbs like they are tightropes, flying with her jacket stretched out like wings, and watching every superhero movie ever made at least twenty times in a row.